"Today's hobby riders are the vaqueros of yesterday"

The rider wants a horse which is sure-footed, supple, balanced and relaxed.
Working Equitation offers an interesting and varied training with its work at the different obstacles. The trail obstacles give more meaning to the gymnastic work. The horse gets a lot of motivation and the rider develops a better understanding for the precise performance required at the various obstacles. Often the rider will receive the feedback from the obstacle itself, an excellent opportunity for self-correction. During my lessons I can watch how rideability and everyday suitability of the horses improves on a daily basis.
My training of riders and horses is tailored to their current level. Training can take place either at my riding facility in Rachtering or at your place as part of a workshop.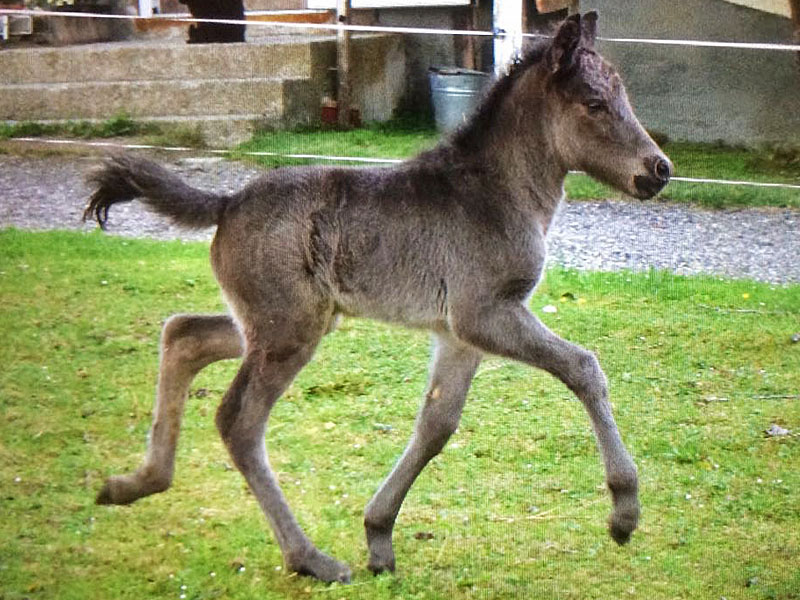 Mykt
Again and again I am fascinated by riding horses with an active back. Einar Öder Magnuusson has taught me the word "Mykt". It describes a horse which uses its full body to move and not only its legs. The training for Gaited Working Equitation activates and improves balance and suppleness.
Gaited Working Equitation riding lessons
I've been familiar with the riding style Working Equitation for many years and compete in this discipline. One of my instructors is Pedro Torres, one of the best Working Equitation riders of our time.
My students include successful Working Equitation riders as well as working equitation beginners and riders who used to ride other competitions or styles before. Because of my long-term experience training horses and riders I can recognize quickly, where we have to pick up to bring horse and rider forward.
My training of riders and horses is tailored to their current level. The training can take place either at my riding facility in Rachtering or at your riding facility as part of a workshop.
My book "Exercising the Gaited Horse" ("Gymnastizierung von Gangpferden"), which I co-authored with Kaja Stührenberg, was published with Cadmos. We want to establish the fact that Gaited horses need defined exercises too and that training is always about rhythm, sense and sensibility. Tölt and all its variations are – like walk, trot and canter, – natural gaits. To ride the four-beat gait variations horse-friendly and healthy, the gaited horse needs a training as profound as every other riding horse. Some exercises like correct bending, lateral movements or e.g. canter/ or gallop are more difficult for a gaited horse. The book concentrates on these differences describing how the training of a gaited horse can be put into practice. Further topics are the different four-beat gait variations and their training, the education of the young gaited horse, specific exercises to overcome difficulties, as well as the seat and aids of the gaited horse rider.
WDR- Lokalzeit: GPZ Aegidienberg, Seminar Gaited Worker
Judge for working equitation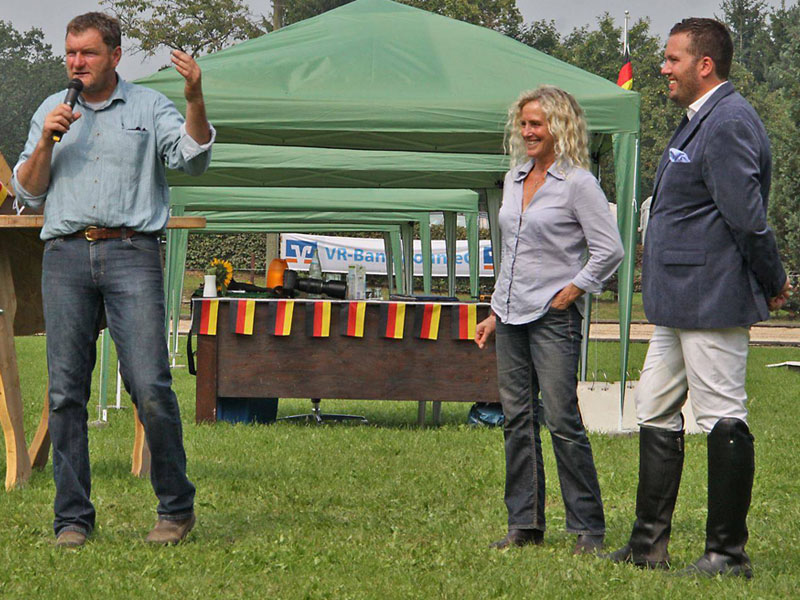 Judging Gaited Working Equitation requires profound knowledge about gaited horses and the requirements of the Working Equitation tests in theory and practice. I have been judging Icelandic and other gaited horses since my adolescence.
2. Gaited Working Equitation Turnier – Pferdefreunde Offenthal – 2019
Practice competition for Gaited Worker – Riding under show regulations
The Idea: Competitors ride under official Gaited Working Equitation Regulations like the Dressage Test, Maneability and the Speed test. Under supervision of IGV*-Judge Andrea Jänisch, the team of judges evaluate each test.
The ride, the live comments during judging as well as the live evaluation plus the final result of the judges will be filmed. The competitors will then have access to their rides on film to take home.
An ideal way of improving your results and also getting rid of "nerves" before ridden tests.
*(Internationale Gangpferdevereinigung – International Gaited Horse Association)
Feedback to my riding lessons
[cl-review quote=""My perception and approach to working with my horse have changed fundamentally because of Andrea's lessons and the work at the obstacles.
The serenity of my horse towards new things has become an important aspect for me as a hobby rider. We go to every lesson highly motivated."" author="Angela Mayer" occupation="hobby rider" avatar_image="931″ type="quote" layout="modern" author_size="18px" italic="1″][cl-review quote=""When children learn to ride, they don't think about track figures or the correct seat, they rather dream about galloping bareback through fields. The exercises for gaited workers allow children to keep these dreams but also to evaluate their skills better. In terms of form it doesn't make a difference if you ride a small tour or around the barrel, but around the barrel is more fun!"" author="Gaby Pilger" occupation="riding instructor and stable owner" avatar_image="973″ type="quote" layout="modern" author_size="18px" italic="1″][cl-review quote=""Andrea introduced me to Gaited Working Equitation. My Aegidienberger mare and I have participated in several trail training days to practice the whole course under show conditions and with professional supervision. Andrea has prepared us well for our first season. The analysis of the videos during the training helped us reflect which obstacles were fine and which we have to practice more extensively. After our first start I was enthusiastic. With constructive criticism and inspiring conversations with other participants, a pleasant atmosphere was set, which made us feel welcome immediately. With its broad spectrum of obstacles and challenges the Gaited Working Equitation offers gaited horses, depending on the class, the opportunity to present themselves other than on an oval track."" author="Katharina Kühnemuth" occupation="show rider" avatar_image="946″ type="quote" layout="modern" author_size="18px" italic="1″]
Competing in Gaited Working Equitation
In 1988 the International Association for gaited horses (IGV) was founded – initially as "International community of interest in tölt-horses" (IGT) but then renamed in 1991 to "IGV". The IGV stays in close contact to the FN representing the interests of Gaited Riding with the relevant board members. A Gaited Working Equitation test can be held as a part of any Gaited Horses Show, a general horse event or as separate competition. The tests are performed in three classes, L = Novice with a dressage, maneability and gaited test, M= Advanced with dressage, maneability and gaited test on a higher level and (optional to the organizer) speedtest and cattlework, S= Masterclass: dressage, maneability, gaited test, speedtest and cattlework. Obstacles according to he regulations of the Working Equitation Deutschland e.V.
For more information click the link to he Prüfungsordnung GWE-PO.
The challenge of all classes is to present the rideability: Clear rhythmic gaits, dynamic and correctness of transitions, seat and aids of rider, precise performance of the track figures. The dressage tests are being ridden with both hands, except in the Master Class (S-class) which is ridden one-handed.
The basis of an appealing dressage test is a supple horse reacting to subtle aids.
The Maneabiltity test – Trail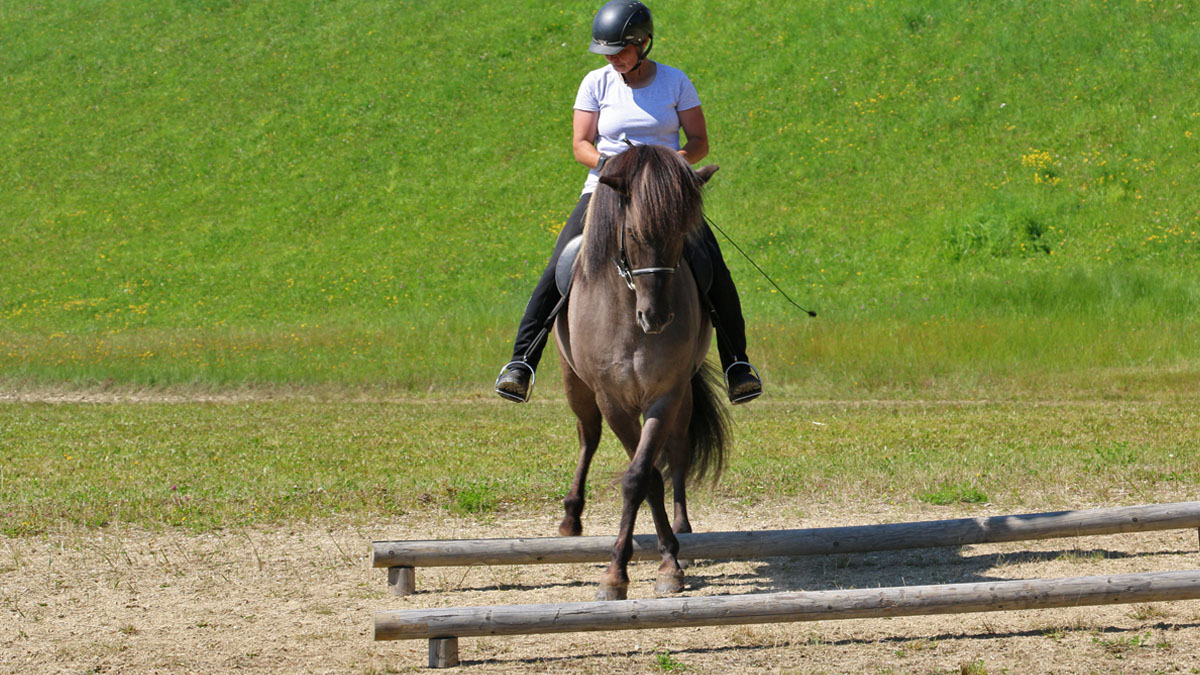 The maneability test is to be understood as a dressage examination with practical reasons to perform the required task at an obstacle. This is only possible with suppleness, precision and a calm horse regarding "new" things. The beginners are allowed to ride in trot or the characteristic four beat gait of the presented breed. For Novice and Master classes it is mandatory to ride the test in tölt or the four beat gait characteristic for the presented breed.
The completion of the various obstacles is a slow road to success reached only in small steps. Here failing rideabilty or loss of balance show up at once. Only with sufficient practice an obstacle can be accomplished elegantly and with obvious ease.
Important: Always end a training session with an obvious success for the horse – this keeps it focused and happy.
In all competitions which are ridden during a Gaited Horse Show the competitors of all Levels must choose one gaited test which is then relevant to the overall result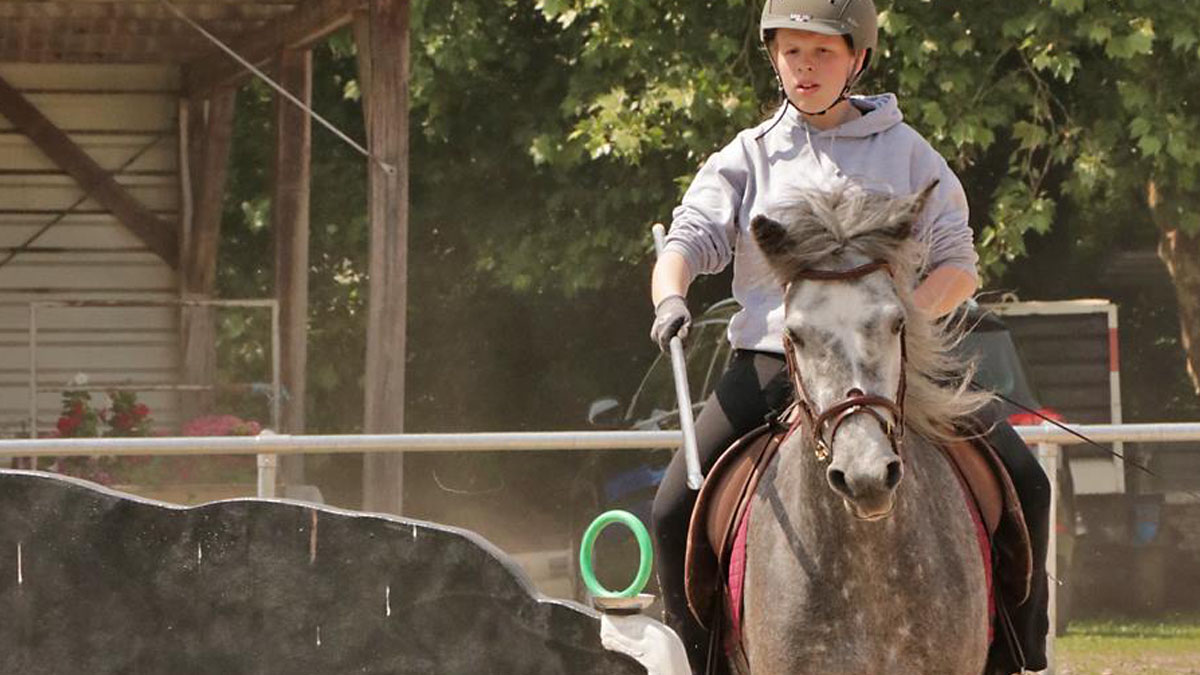 The speed test is accomplishing the maneability course as fast as possible, but without mistakes at the obstacles. Here it is important to have the right strategy and an absolutely supple horse, which never pulls against the riders hand – even at high speed. Here transitions and tight turns are the key to success.
For this test the regulations of WED e.V. apply.
In my cattle training sessions gaited horses were very successful. The rider learns to ride with intuition as his concentration is focused on "reading" the cow. The horse requires reactivity and balance. Do not underestimate the power of concentration which is needed from both partners. Very challenging but also a lot of fun!