Golegã, Portugal – Lusitanos intensiv


11.-15.November 2020
Travelling individually but enjoying a tour organized and accompanied by Andrea Jänisch in November 2020. "I would like to introduce Portugal (I love it!) and the Lusitano horses and I try to do so in a packed but nevertheless relaxed way."
Organization and attendance are 238 € (incl. VAT). Flight, hotel, rental car and meals have to be booked and paid by the participants themselves. I will gladly recommend hotels.
Arrival: Individually by plane to Lisbon. Before beginning our trip to Portugal we will agree upon who will pick up a car at the airport and who is willing to drive in Portugal. The cars will be booked individually and the participants will get together according to their respective arrival time in Lisbon. The expenses for the rental cars are divided among the participants. Including gas I estimate around 50 €/person.
On arrival day the group will get together before dinner the latest, to visit a Fado restaurant together in the old town of Lisbon. The hotel in Lisbon will probably be pre booked, guests pay their room individually on site.
Next day after breakfast we will depart together to Golegà which is approx. 115 km away. The highways are in good condition and not crowded. After arriving in Golegà we will – depending on the schedule – watch breeding shows and probably the valuation of the stallions. I will try to get Michelle Santo to comment the happenings (in English) so we will get a lot of background information certainly making this an interesting experience. During breaks you will have enough time to stroll through the market stalls and do some shopping.
The hotel we'll be staying at will probably be located out of Golegà, since there are only a few accommodations in town and these are usually booked out for years (!) in advance. After checking in we can either enjoy the evening atmosphere at the Feria (and have dinner there) or we can visit a typical Portuguese restaurant. In the next days we will have plenty of time to watch the interesting competitions and shows including the famous evening shows on Friday and Saturday.
We will visit the renowned breeding farm of the Veiga family and will be shown around. Furthermore we will visit Pedro Torres in Pena Longa, Sintra (1/2 h), where we will be introduced to his way of working with horses and enjoy a riding demonstration. (These appointments are confirmed but are not fixed to date and time yet – they depend on the final schedule of the Feira).
The return flights should be booked for Sunday evening.
The number of participants is limited to 10-15 people. Please contact me and get a binding registration – . You are booking a joint individual tour. We do not accept any liability.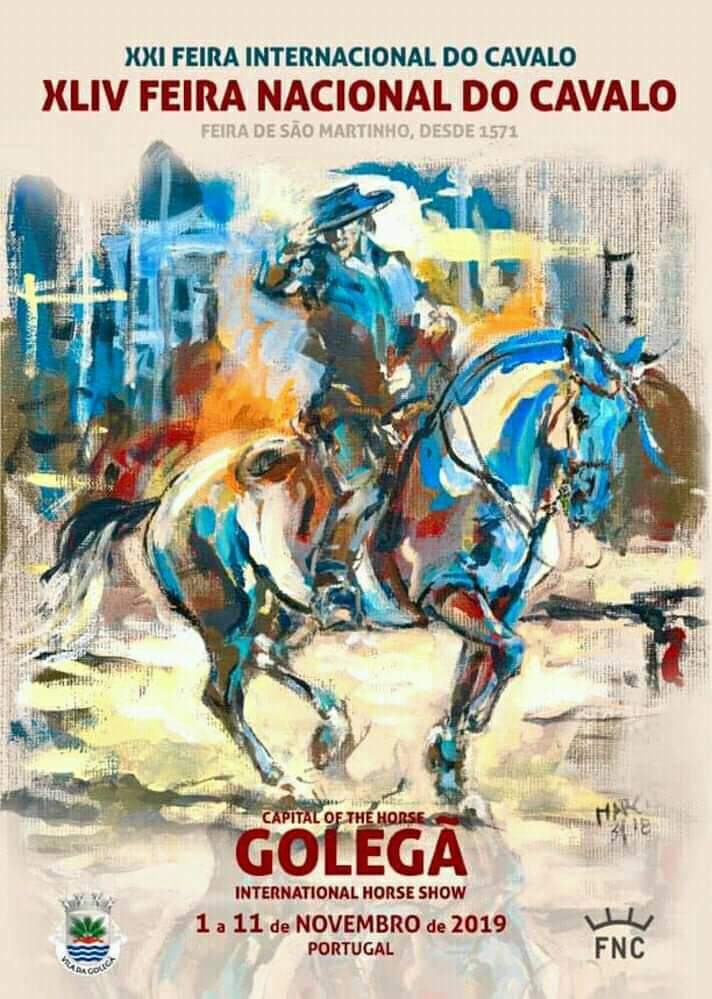 The history of the festival in Golegà reaches back to the 18th century. Originally it was an agricultural fair to present regional products. Traditionally the chestnuts were savoured with the new wine. Lusitano breeders have been presentint their horses ever since the first Feria. Over time the fair evolved to the Feira Nacional do Cavalo. Today the Feira lasts 10 days. All equestrian sports are presented, from the very important breeding shows over to riding competitions, jumping as well as driving competitions. You meet, greet and celebrate together – a "must-see" for all horse enthusiasts.
The stud farm of the Veiga familiy can look back on 200 years of tradition. Horse breeding is one part of the wide agricultural enterprise producing also grain, wine, olive growing and cattle breeding. The Veiga brand is a warrant for quality in horse breeding.
Penha Longa – Academy Pedro Torres
Pedro Torres' Academy is located at Penha Longa in Sintra. World wide he is the most successful Working Equitation rider and meanwhile also rides Grand Prix in the top range . He will give us an introduction to his way of working with horses with a riding demonstration. Sintra has a beautiful "fairytale old town".
During the Feira free accommodation is rare. Therefore hotel selection will be coordinated by me, I recommend and favour typical Portuguese accommodations